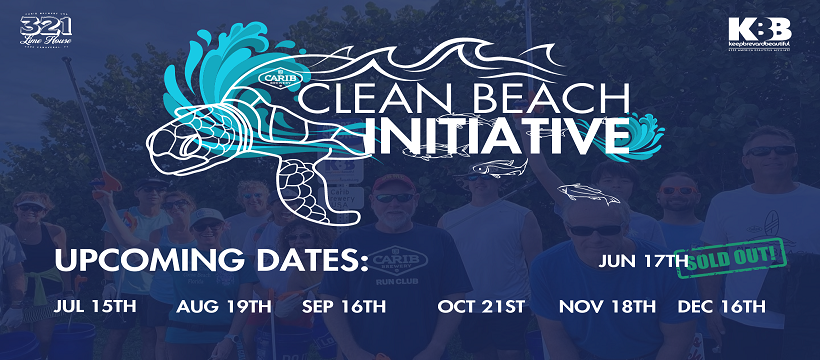 21 June 2023
Clean Beach Initiative at CARIB Brewery USA
Cocoa Beach, Florida, is renowned for its pristine sandy shores and breathtaking ocean views. However, like many other coastal areas, it faces the ongoing challenge of maintaining cleanliness due to litter and pollution. In an effort to preserve the natural beauty of Cocoa Beach, CARIB Brewery USA has spearheaded a remarkable initiative in collaboration with Keep Brevard Beautiful and their adopted shore, Alan Shepard Park.
Since October 2021, the Clean Beach Initiative has been making a significant impact by organising monthly beach cleanups on the third Saturday of every month. The collective efforts of CARIB Brewery USA, Keep Brevard Beautiful, and dedicated volunteers have resulted in the removal of approximately 4000 pounds of trash from the shores of Cocoa Beach. The Clean Beach Initiative focuses on tackling various forms of litter, including small plastics and cigarette butts, which are commonly found polluting our beaches. These efforts not only enhance the aesthetic appeal of the coastline but also play a crucial role in safeguarding the marine ecosystem.
CARIB Brewery USA has been at the forefront of this endeavor, demonstrating their commitment to environmental conservation and their dedication to the local community. By partnering with Keep Brevard Beautiful, a prominent environmental organization, they have been able to mobilise a dedicated team of volunteers who share a common vision of preserving the natural splendor of Cocoa Beach. Through the tireless efforts of these passionate individuals, the Clean Beach Initiative has been successful in raising awareness about the importance of maintaining a clean and healthy coastal environment. The impact of the Clean Beach Initiative extends beyond the physical removal of trash. It serves as a catalyst for change, fostering a sense of community and environmental stewardship among the residents of Cocoa Beach. The monthly cleanups have become a regular event, bringing people together from all walks of life, united by their commitment to a cleaner, more sustainable future.
As the initiative continues to gain momentum, the hope is that more individuals, organisations, and businesses will join hands to amplify the impact. With every beach cleanup, Cocoa Beach takes another step toward becoming a shining example of environmental preservation and responsible tourism.
The Clean Beach Initiative by CARIB Brewery USA, in partnership with Keep Brevard Beautiful and their adopted shore Alan Shepard Park, is a testament to the power of collaboration and community involvement. Through their ongoing efforts, they have made Cocoa Beach a cleaner and safer place for everyone to enjoy, leaving a legacy of environmental consciousness for generations to come.
WATCH this video to find out more about the Clean Beach Initiative